Welcome to 21st century Cue Sports Company
Based in Liverpool England, 21st century Cue Sports Company is the proud home to some of the most advanced, innovative products ever to be developed in the cue sports world. Founded by a highly dedicated team of professional people including ex professional player and world record breaking coach Neil Johnson, our aims and objectives are to provide all respective cue sport players with a modern, effective, proven approach to a greatly improved more enjoyable game.
The company is responsible for overseeing the development and production of the patented, multi award winning Gravity Cue & the patented 360-PureCue Action Trainer, plus numerous other exciting products that are currently under development.
21st Century Cue Sports endeavor to continue to provide the cue sport player with ground breaking, game changing advancements worldwide. Look out for further class leading innovative products coming soon that aim to cover every aspect of cue sports.
We are working towards the most advanced, comprehensive, effective, economical, training and game playing system ever produced.
This Statement is made to comply with The Companies Act 2006
This Web Site is wholly owned and managed by 21ST CENTURY CUE SPORTS COMPANY LIMITED
Our principal geographic and registered office address is:
21ST CENTURY CUE SPORTS COMPANY LIMITED, 63 STANLEY PARK AVENUE NORTH, WALTON, LIVERPOOL, MERSEYSIDE, UNITED KINGDOM, L4 9UD
Registered in England and Wales: 06945495
We are committed to clarity in pricing which is unambiguous, all products throughout the website are not liable for VAT.
Our contact details are:
Tel: 0844 4120 5855
Fax: 0844 4120 5856
Overseas Callers: +44 0151 4742188
Email: [email protected]
.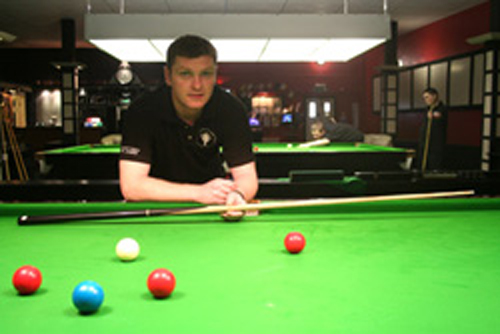 About The Technical Director
Neil Johnson, World Snooker Coach & Inventor, after years of research brought to the market a cue that could change the face of cue sports forever. The "Gravity Cue" the most accurate, player friendly, technically advanced, legal cue ever produced. A breakthrough in cue technology.
The Gravity Cue can assist both the absolute beginner & seasoned player allowing you to cue with more power and accuracy, achieving a more positive cue action. The cue is currently under further development in Europe & is licenced for sale in Australia.
Neil still holds the record for becoming Britain's' youngest snooker coach at just 20 years of age and founded the Liverpool Academy of Snooker Excellence in 2005 with a string of junior champions progressing from the academy all benefiting from Neil's groundbreaking products and coaching methods.
Neil with the help of his businesses & development partner Chris Clarke also developed the ground breaking 360 PureCue Stroke trainer, a revolution in cue sports training aids, used by all of Neil's "Junior Giants" cue sports pupils and by many successful amateur & professional players in both pool & snooker.
The gravitycue concept has already captured the attention of numerous cuemakers throughout the UK & overseas for not only the snooker & 8 ball market but also the 9 ball market & we intend limiting manufacture to quality cuemakers only. Should your company wish to incorporate the GravityCue concept into your range of cues, then please email:
[email protected]
and a member of our team will contact you
Should you wish to become a trader of our products then please email:
[email protected]
with brief details and a member of our team will contact you.
Before I was introduced to the 360-PureCue Action Trainer and changed over to the Gravity Cue I had a under hand grip which used to make my cue arm flick out on most shots causing a lot of technical problems. After about 6 weeks of practising, everything had fallen into line including my stance. I now don't ever think about how I used to cue. The more that I train with my 360 & play with my Gravity Cue, the further away I get from what I used to do. I have managed to establish myself as an England international and won numerous junior titles. I am all together much more consistent and I have managed to compile several century breaks.
I have only been playing snooker for two years but I was fortunate enough to have a prototype Gravity Cue from the very start. I don't just cue well on my favourite shots anymore but cue also smoother and accurate on ALL my shots. I have since become Merseyside Junior Champion, North West junior event winner and became the first person to win both junior titles of U16's and U21's in our local snooker league. I have also made a break of 140 in a match with the GravityCue and a high break of 137 with the 360-PureCue in practice (line up).
I was fortunate to be with Neil at the development stages of the GravityCue & 360-PureCue over 3 years ago and still to this day use both products, my all round game seen immediate results and I am so much better technically than I ever could of hoped without the assistance of these two products My highest tournament break with the GravityCue is 143 and have had over 700 century breaks.